SPA & SALON
CLEANING SERVICES
Time To Shine is your go-to source for reliable spa and salon cleaning services in Calgary. Our professional janitorial team is dedicated to ensuring that your spa or salon is clean, sanitized, and inviting for your clients. With our top-of-the-line equipment and expert commercial cleaning techniques, we will leave your space sparkling and ready for business.
Keeping Spas & Salons in Calgary Clean and Healthy
At Time To Shine, we understand that spas and salons require special attention when it comes to cleaning. That's why we offer a range of unique cleaning services tailored specifically to meet the needs of these businesses. Our janitorial services are designed to provide a solution that caters to your specific needs, including:
Deep Cleaning of Treatment Rooms
Our team uses advanced cleaning techniques to ensure that every inch of your treatment rooms is thoroughly cleaned and sanitized.
Window Cleaning
Clean windows are essential for creating a bright and welcoming atmosphere in your spa or salon. We provide streak-free window cleaning services to keep your windows looking crystal clear.
Restroom Cleaning
We understand that a clean and well-stocked restroom is essential for your clients' comfort. Our team ensures that your restrooms are thoroughly cleaned and well-stocked with essential supplies.
High-Touch Surface Disinfecting
High-touch surfaces, such as door handles, light switches, and reception desks, can quickly become contaminated with germs and bacteria. We use EPA-approved disinfectants to thoroughly clean and disinfect these surfaces, helping to keep your clients and staff safe.
Floor Waxing and Polishing
High-traffic areas in your spa or salon, such as entryways and hallways, can quickly become scuffed and worn. Our floor waxing and polishing services help to restore the shine and luster of your floors, giving your business a polished and professional appearance.
Locker Room Cleaning
If your spa or salon has a locker room, it's important to keep it clean and well-maintained. We can provide regular cleaning services for your locker room, including cleaning and disinfecting locker surfaces, restocking supplies, and more.
Reception Area Cleaning
The reception area is the first thing your clients see when they enter your spa or salon, so it's important to keep it clean and inviting. We can clean and disinfect reception desks, chairs, and other surfaces to help create a welcoming environment for your clients.
Retail Area Cleaning
If your spa or salon has a retail area, it's important to keep it clean and organized. We can help with dusting, vacuuming, and other cleaning tasks to keep your retail area looking its best.
With our unique and specialized cleaning services, Time To Shine is the perfect choice for spas and salons in Calgary looking for top-quality cleaning services. Contact us today to schedule your cleaning services and experience the Time To Shine difference.
The Benefits of an Expertly Cleaned Salon & Spa
Maintaining a clean and hygienic salon or spa is crucial for providing a safe and comfortable environment for your clients. By using a professional janitorial company like Time To Shine, you can enjoy a wide range of benefits that come with expertly cleaned facilities. Some of these benefits include:
Improved Health and Safety
A clean and hygienic spa or salon can help prevent the spread of germs and bacteria, protecting both your clients and staff from illness. By using professional cleaning services, you can ensure that your space is properly disinfected and sanitized to promote a healthy and safe environment.

Enhanced Customer Experience
A clean and well-maintained spa or salon creates a positive impression on your clients, making them more likely to return and recommend your business to others. Professional cleaning services help to create a comfortable and inviting environment that will keep your clients coming back.

Increased Productivity
When your staff isn't responsible for cleaning, they can focus on their primary duties, leading to increased productivity and efficiency. With a professional cleaning company taking care of the cleaning, your staff can focus on providing top-quality services to your clients.
Prolonged Lifespan of Equipment
Regular cleaning and maintenance of spa and salon equipment can help extend its lifespan and prevent the need for costly repairs or replacements. Professional cleaning services ensure that your equipment is cleaned and maintained properly, helping it last longer.

Compliance with Regulations
Salons and spas are subject to a variety of regulations and health codes. A professional cleaning company can help ensure that your business is in compliance with these regulations, preventing any potential legal or health issues.

Stress-Free Cleaning
Cleaning can be a time-consuming and stressful task, especially when it comes to the specialized cleaning needs of salons and spas. By using a professional cleaning company, you can take the stress and hassle out of cleaning, knowing that your space will be expertly cleaned and maintained.
These are just a few of the many benefits that come with using a professional janitorial company like Time To Shine for your spa or salon cleaning needs. Contact us today to learn more about our services and to schedule your cleaning.
Why Choose Our Calgary Janitorial Company for Your Salon or Spa
When it comes to choosing a janitorial company for your spa or salon in Calgary, it's important to find a company that is experienced, reliable, and provides top-quality services. Here are a few reasons why you should choose Time To Shine for your spa or salon cleaning needs.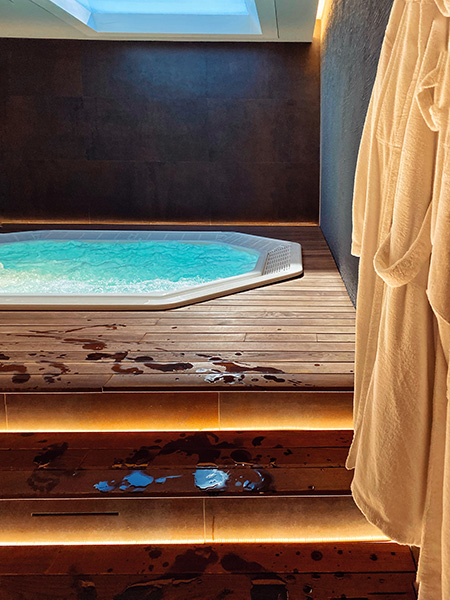 Specialized Expertise: Time To Shine specializes in providing cleaning services for salons and spas. Our team has the experience and knowledge needed to handle the unique cleaning needs of these facilities, ensuring that your space is always clean, hygienic, and inviting.
Customized Cleaning Plans: We understand that every spa and salon has unique cleaning needs. That's why we work with each of our clients to create a customized cleaning plan that meets their specific requirements and budget.
Eco-Friendly Products: We use environmentally friendly cleaning products that are safe for both your clients and staff. Our products are effective in removing dirt, grime, and bacteria, while also being gentle on surfaces and the environment.
Quality Assurance: We are committed to providing top-quality cleaning services. Our team conducts regular quality assurance checks to ensure that our services meet the highest standards of cleanliness and hygiene.
Flexible Scheduling: We offer flexible scheduling options to accommodate your business needs. Whether you need daily, weekly, or monthly cleaning services, we can work with you to create a schedule that meets your requirements.
Professional and Reliable: Time To Shine is a professional and reliable janitorial company. Our team is fully insured and bonded, and we take pride in providing timely, efficient, and friendly services to our clients.
These are just a few of the unique reasons why you should choose Time To Shine for your spa or salon cleaning needs in Calgary. Contact us today to learn more about our services and to schedule your cleaning.
I have had the pleasure of working with Time To Shine Cleaning Services for the past year. I have found them to be thorough and fiercely committed to delivering the highest quality service. Jevon and Bahija along with their frontline teams are well organized and very hard working. I strongly recommend Time To Shine if you are looking for a cleaning service you can trust.
We use Time to Shine at work and they support sanitization for services that are serving vulnerable populations and do so thoroughly and are always easy to reach for questions.
Great company and strong reputation! When looking for a provider that has been long lasting in this city over 10 years and is locally owned unlike many franchises with head offices in different provinces, this is a solid choice for a quality driven and economically aligned company for your brand.
Request a Free Quote for Spa and Salon Cleaning Services in Calgary Today!
At Time To Shine Cleaning Services, we are fully insured, bonded, and licensed to provide superior cleaning services for spas and salons in Calgary. Our team of experts has years of experience in the industry, and we are committed to delivering high-quality cleaning services that exceed our client's expectations.
If you are interested in our salon/spa janitorial services, we encourage you to contact us for a free quote and consultation.