Calgary's Award Winning Cleaning Company
Time to Shine offers commercial cleaning and janitorial services to a variety of locations throughout the city of Calgary. We are one of the best; as we are fully insured and each of our specialists has passed a thorough background check.
We appreciate that commercial properties must maintain a clean and orderly environment to attract and retain clients and customers. From lobby and office cleaning, janitorial services and commercial windows to condo and apartment building common areas. We service all types of properties from office buildings (corporate high rises), medical offices, dental offices, naturopathic offices, massage & chiropractic offices, restaurants, lounges & beer halls, community centers, gyms, apartment buildings and condominiums to other types of stores or specialty service locations.
Time To Shine is the 2016 & 2017 Winner of the Consumer's Choice Award in Southern Alberta
WHAT OUR CLIENTS SAY
See more client reviews and testimonials on Google!
Time to Shine was able to accommodate all our needs and was open to changing the plan. The girl who comes is very fast. The place looks great.

Very happy with the services from Time to Shine. Exceptional level on quality, personalized service and done right. I recommend Time to Shine without hesitation!!

I know the owner and he's a great guy and runs a really good company. I highly recommend them especially if you are looking for office or commercial cleaning.

I've used Time to Shine cleaning service for restaurant establishments in Calgary and these guys are beyond amazing!! Every morning my kitchen looked brand new, the front of house was detailed better than any other service company had provided before, and the owner of Time to Shine was on site himself a few times to ensure all was up to their standards... and mine! Can't say enough good things about these guys. Will continue to hire them again and again. I highly recommend them.

This is a cleaning service that is really excellent, and provides genuine value for your money. We've all probably worked with a maid service that was nothing but trouble, and caused more issues than it solved. This service is the exact opposite: efficient, but very meticulous. Well recommended.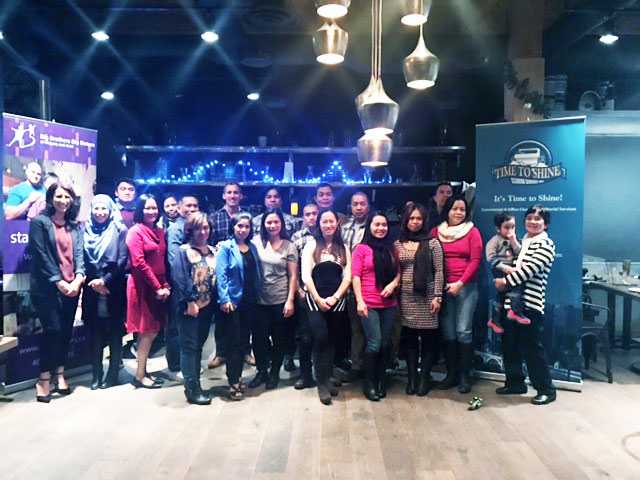 Jevon Almond

/

President
Transitioning from a background of working with an award-winning builder for over 5 years in Morrison Homes, Jevon learned what a successful corporate culture looked like. "The 'customer is always right' attitude over there was very humbling and inspiring to witness," said Jevon. "It was easy to carry over that mentality when Time To Shine was founded in 2009." Time To Shine started with humble beginnings in the maid services and builder construction market segment. The company has grown slowly and organically to provide commercial cleaning facility services to both small, large and every building space in between. "What allows us to really stand out is our customer service, attention to detail, and truly aspiring to be an industry leader in our field. Long term corporate alignment is what we seek from every delightful opportunity, so we can build a solid business relationship." Being the recipient of the 2017 Consumer Choice Award in Commercial Janitorial for a second consecutive year, is a pleasant reminder that we are treating our customers right, as we continuously strive to provide a better client experience when it comes to commercial cleaning.
We very much look forward to working with your great company in the near future.
Bahija M.

/

Operations Manager
Bahija has been with Time To Shine Cleaning for over 6 years now, and was promoted from within the company due to her hard work ethic and attention to detail. Bahija has an exceptionally positive attitude, and believes in life you get what you put in. If you work diligently and efficiently, then you'll be rewarded. Bahija embraces our perpetual commitment to the highest level of customer service within our corporate culture, and instills it in all of our existing staff, as well as new team members who join us. Bahija is an incredible asset to Time to Shine, overseeing our entire corporate client portfolio from a customer service perspective, and operational standpoint.
The objective of cleaning is not just to clean, but to feel happiness living and working within that environment.
Safety & Coverage
You can have confidence choosing Time to Shine Cleaning to maintain your buildings & properties. Each of our cleaning representatives is fully bonded, with all necessary WCB coverage and has passed all standard security checks. We maintain the necessary bond above industry standard for liability insurance coverage. We take responsibility for making sure that the businesses we serve are well protected.
Environmentally Conscious
Time to Shine Cleaning cares about our customers, community and the environment. We use all environmentally sustainable cleaning products, purchased from Apple Cleaning, a local Calgary-based company. Customer satisfaction, caring for the environment and promoting business in our Calgary community are three of our top priorities.
THE TIME TO SHINE CLEANING COMPANY IS A PROUD SUPPORTER OF: