Calgary's #1 Cleaning Company
Delivering Superior Client Satisfaction Since 2009
For over a decade, our cleaning company, Time To Shine Cleaning Services, has helped businesses throughout the Calgary area look and feel their best through awarding-winning janitorial solutions.
Since our inception in 2009, our team has focused on one thing, customer satisfaction. Our cleaning company may be young, but it is the continuous focus of delivering the highest quality of professional services that has separated us from the rest of the cleaning companies in Alberta and really made our business stand out. Time To Shine is here to be your one and only janitorial solutions provider.
With a team of 60+ professionals, our cleaning company delivers superior janitorial solutions to many types of businesses throughout Calgary, including, but not limited to, commercial properties and buildings, office properties and buildings, and apartment/condo buildings. We also offer a full array of janitorial services from window, wall, floor, and carpet cleaning.
Our solutions are scalable and flexible, available during work hours, or off-work hours, virtually any time of any day throughout the month, and on various schedules. If you are seeking a janitorial company partner for your ongoing needs, Time To Shine Cleaning Services is here to make your business look its best.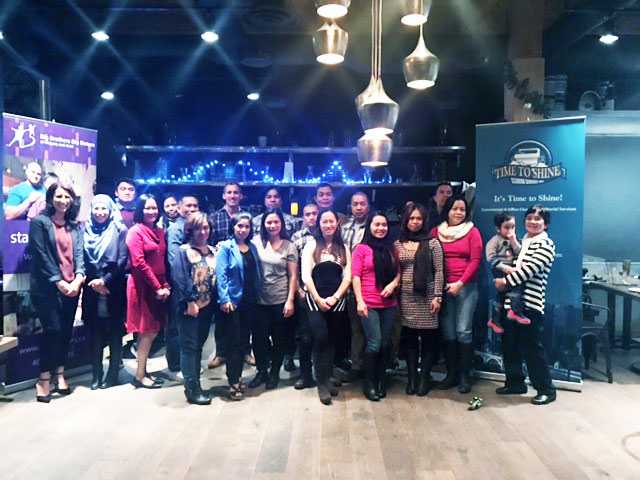 Co-Operators Insurance
Time To Shine Cleaning Services is insured, bonded, and supervised. The Co-Operators provide our company with a $5 million liability insurance policy to protect the businesses we serve.
Swept Technologies
Time To Shine utilizes the cleaning industry's most powerful software – Swept Technologies – to deliver the most effective, efficient, and comprehensive janitorial services to our clients.
OUR 5-STAR REPUTATION

See more client reviews on Google!
Very professional, detailed focused, and caring company. Jevon, Bahija, and Logan take the time to ensure the restaurant is always at it's prime. Weekly visits from senior staff to assess any concerns is an added bonus. Should we have any, they are always addressed immediately. Highly recommend.
– Shawn Hill
Time to Shine has provided regular cleaning of our office (3 times/wk) for the past 3.5 years, and the service has consistently been high quality. Jevon and Bahija have been great to deal with – very professional, attentive to detail, and they really care about providing outstanding customer service.
– Maureen Weeks
Time to Shine has been exceptional in their cleaning services at the building, any and all concerns communicated to this company has always been very positive and energetic to clear the matter up and pricing is very reasonable when compared to equally sized contractors.
– Ragu Sivakumaran
A very professional approach from the President on down. Monthly visits from his GM Bahija indicates they care about the level of service they are providing and customer satisfaction.
– John Bodnaruk
We have been very happy with the level of service and professionalism provided by Time to Shine Cleaning. Having dealt with many different businesses that offer professional cleaning services, these guys are on the top of my preferred list.
– Shayna A.
They have been cleaning our business office for over a year and they perform an exceptional job. They go above and beyond in their duties and we would highly recommend their cleaning services.
– Louise Rasmussen
Switching to Time to Shine has been a great decision for our company. We compared a number of cleaning companies and Time to Shine offered us the best deal. We literally cut our monthly cleaning bill in half without any loss of cleaning time? They are prompt, very thorough and do a great job. The transition was quick and painless. Jevon and his team respond quickly to all questions we have had and treat us very well. I would highly recommend Time to Shine.
– Roger
Being new to the building, we were introduced to Time to Shine and their team by one of our clients. The Time to Shine team are very professional, arriving on time and always quick to respond to you. Needless to say, they moved effortlessly into our lives and we would find it difficult to be without them now. Their clients include office and commercial buildings, apartment and condo buildings, corporate high rises, office and commercial properties, and various other properties.
– Paula Leigh
Time To Shine has been Great. They have the most Professional Staff and are so friendly and accommodating. They have been cleaning our facility now for 6 months and it's never looked better. Their processes and lines of communication make them the most Streamline Cleaning Company out there. If you need a cleaning company they are the ones to call I highly recommend them.
– Michelle Gibb
Jevon Almond

/

President
Transitioning from a background of working with an award-winning builder for over 5 years in Morrison Homes, Jevon learned what a successful corporate culture looked like. "The 'customer is always right' attitude over there was very humbling and inspiring to witness," said Jevon. "It was easy to carry over that mentality when Time To Shine was founded in 2009." Time To Shine started with humble beginnings in the maid services and builder construction market segment. The company has grown slowly and organically to provide commercial cleaning facility services to both small, large, and every building space in between. "What allows us to really stand out is our customer service, attention to detail, and truly aspiring to be an industry leader in our field. Long term corporate alignment is what we seek from every delightful opportunity, so we can build a solid business relationship." Being the recipient of the 2020 Consumer Choice Award in Commercial Janitorial Services and winning for the fifth consecutive year, it is a pleasant reminder that we are treating our customers right, as we continuously strive to provide a better client experience when it comes to commercial cleaning.
We very much look forward to working with your great company in the near future.
Bahija M.

/

Operations Manager
Bahija has been with Time To Shine Cleaning for over 9 years now, and was promoted from within the company due to her hard work ethic and attention to detail. Bahija has an exceptionally positive attitude, and believes in life you get what you put in. If you work diligently and efficiently, then you'll be rewarded. Bahija embraces our perpetual commitment to the highest level of customer service within our corporate culture and instills it in all of our existing staff, as well as new team members who join us. Bahija is an incredible asset to Time to Shine, overseeing our entire corporate client portfolio from a customer service perspective, and an operational standpoint.
The objective of cleaning is not just to clean, but to feel happiness living and working within that environment.
THE TIME TO SHINE CLEANING COMPANY IS A PROUD SUPPORTER OF: